Shopping online is a process in which buy and sell transaction is completed electronically with a credit card, or an established credit account (such as Paypal), or transferring money straight into sellers account. Images or listings of goods and services are viewed remotely via the Internet for purchase.
What is the advantages of shopping online instead of buying the goods at retail store? Having shopping online for many years, I prefer online shopping because of the following reason:
Save time and more convenient – You can shop in your underwear (if you prefer 🙂 ). No need to drive. No need to find parking space. Just type the goods or service you want at the search engine search box. One more thing about convenience is – the online shop never close. Type the product you want to search at the search box from Google:

No more sales pitch – There will be no salesperson pressure you to make a decision. Furthermore, do you find that there are so many credit card promoters chasing you at the retail lobby nowadays?

Infinite choices – you can practically find the goods you need especially those in niche market. There is infinite variety of products available online because online shopping allows consumers to browse through products that are made all around the world without geographical boundaries.

Save money – save petrol, save time (time = money), find the best deals, buy in lot, etc.. can go on forever

Able to read review and recommendation – try shopping online for gadgets and books. There are a lot of people out there who can help you to make the best choice. Reviews and discussion is available everywhere especially at Amazon, some trust worthy blogs, or forum.

Compare prices and features – Do your research and you can get the best deal within minutes.
Of course, there are some disadvantages that worth a note such as shipping fees, the wait for your purchased goods to arrive at your doorsteps, and online security issues. Anyway, make sure can bear all these concerns if you are willing to buy online.
For Malaysian, you can choose to buy from local online store because of the cheaper shipping fees. However, if you can get a better deal from oversea sellers, nobody is going to stop you from buying internationally!
To find great deals, the best place to start your search is the local Malaysian online auction stores:
http://www.webportal.com.my/auction/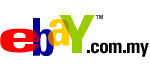 http://www.9octopus.com/bid/index.php
To find best deal from oversea:

Try your search at Amazon.com
Happy shopping online!
Related Article
Bukit Merah WaterPark – Get your discount!